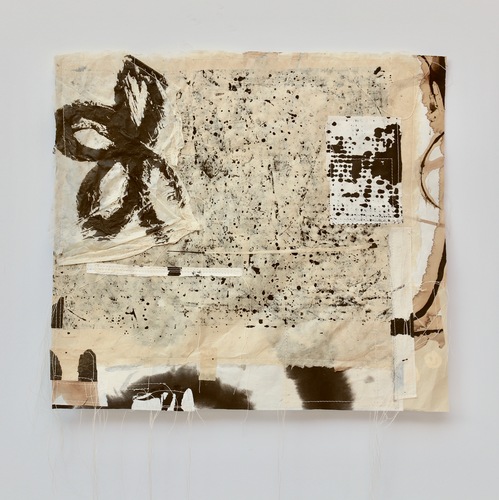 Nomadic Alter, Stitch Collage, Ink on Rice Paper, 13 x 14 inches

My practice has evolved from a lifetime of searching and an affinity to thread, texture and fiber based materials. I am inspired by the sense of touch and how things are made. Explorations into paper making, printmaking, encaustic and sewing practice have led to my recent body of work.

My layered abstracts are a metaphor for connection and relationship. I draw on the rhythms found in nature and my belief in the spirit that flows through all things. These rhythms oppose, harmonize, or blend to create a captivating patchwork. I seek order in chaos and create relationships where none existed before. The Japanese aesthetic of honoring beauty in imperfection is my constant muse.

Organic materials and neutral colors are my first choice. I favor mulberry paper for its strength and translucency. I value vintage material for it's sense of history. I choose sumi Ink and ink I brew from walnuts for their essential quality. The element of touch guides the way I work. I often use stitch to add texture and to connect segments of my marked paper and fabric. All of the elements I employ bear marks I've created myself. I use paper, thread, and ephemera collected over years of travel and experience. A balance of these materials and intentions combine to reveal an expression of organic elegance.